Our story starts in the early 1980s, in Noceto, as a one-man company, and after a number of company changes in the early 1990s, For.Me.Sa. "forniture medico sanitarie" entered the pharmacy and medical supplies market through a direct sales network addressing distribution channel wholesalers.
With a view to expanding and adapting to its customers' needs, in recent years the company has broadened its channels to includea division dedicated to

nursing homes and geriatric patients.
For.me.sa. serves the domestic and international distribution channel with a wide range of products in order to satisfy the diverse requirements of its customers.
The various product lines include those dedicated to aerosol therapy, resuscitation and rehabilitation, gynaecology and neonatology, incontinence and hot/cold therapy, as well as the new geriatric care line.
For.me.sa. manufactures most of its products and medical devices, of which two can be considered the company's flagship products: the  pessary, a class IIb medical device for the containment of uterine prolapse and

Giotty 

the patented, proprietary electric pill crusher.
The company has

UNI CEI EN ISO 13485 

certification issued by Istituto Italiano del Marchio di Qualità – IMQ in Milan and is in possession of class IIa and IIb product certification issued by Kiwa Cermet in Bologna. All Medical Devices are registered with the Italian Ministry of Health.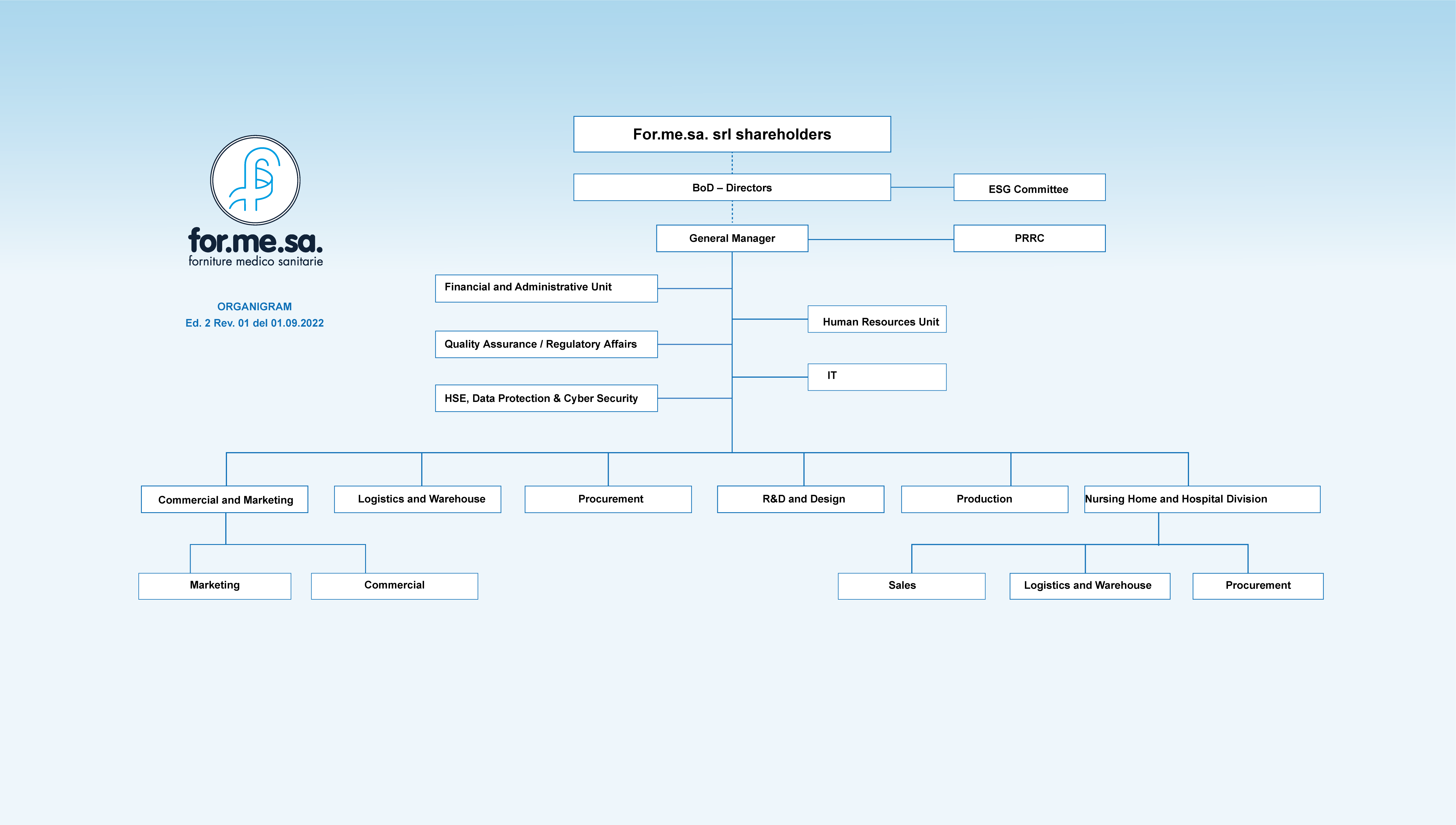 Young and female
The female gender predominates at For.me.sa., where out of a total of 21 employees and staff, there are 15 women.
From the outset, our pioneering CEO Daisy Bizzi chose to invest in young female talents, and over the years has championed a number of initiatives, to promote the role of women in the world in general and the workplace in particular.

Daisy Bizzi
Partner and President

Angelo Saccani
Board Member and Nursing Home Business Unit Director

Viviano Dallatomasina
General Manager

Gioia Saccani
Sales Manager

Ottavia Saccani
Finance and Administration Director

Simona Pongolini
Accounting Specialist

Alessia Biggio
Accountant

Massimo Rodolfi
Logistics Specialist

Valentina Leonardi
Graphic Designer

Alessandra Bacchi Modena
Senior Sales Consultant (extension 1)

Serena Bellini
Sales Consultant

Nicolò Peretto
Junior Sales Consultant

Emanuele Bona
Procurement Specialist

Elisa Provenzali
Senior Warehouse Specialist

Barbara Provenzali
Senior Warehouse Specialist

Fabrizia Salerni
MSR - Medical Sales Representative

Francesca Vanoli
Senior Accountant

Francesco Tarantino
Senior Warehouse Specialist

Pamela Ampollini
Senior Warehouse Specialist